Product Description
This model is designed for cerebral palsy child.
Ultra light weight aluminum alloy frame
Epoxy powder coated frame
Detachable arm rest and foot rest provided
Height adjustable arm rest
Elevated and swinging foot rest provided
Elevated foot rest provided to elevate leg angle
Height adjustable and detachable head rest
Hydraulic reclining high back for quite comfortable posture
Hydraulic adjustable seat angle
Detachable back and seat pad
Anti wheels for better safety and stability
Extra cushion upholstery provided to under arm. head & leg
Folding action
Lever and paddle brakes provided
Safety belt provided
Maintenance free rear solid wheels
Suitable for child's height ≤ 4 ft.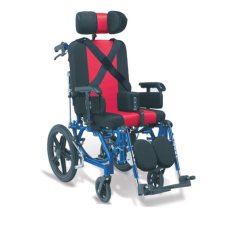 Additional Information
| | Total Width | 56 cm or 22.04″ |
| --- | --- | --- |
| | Total Width on folding | 26 cm or 10.23″ |
| | Width of Seat | 36cm (14.17″) 46cm (18.11″) |
| | Height of seat from floor | 53 cm or 20.86″ |
| | Total Height | 94 cm or 37″ |
| | Rear Wheel | 40.6 cm or 15.96″ |
| | Front Castor | 15 cm or 5.90″ |
| | Rear to Front Castor | 104"" or 40.94″ |
| | Weight Net/Gross | 23 kg. / 25 kg. |
| | Max. Weight loading capacity | 75 kg. |
Technical Features
Foldable action
Powder coated steel frame
Previous
Cerebral Palsy (C.P.) Wheelchair
Next
Model No. CP-103